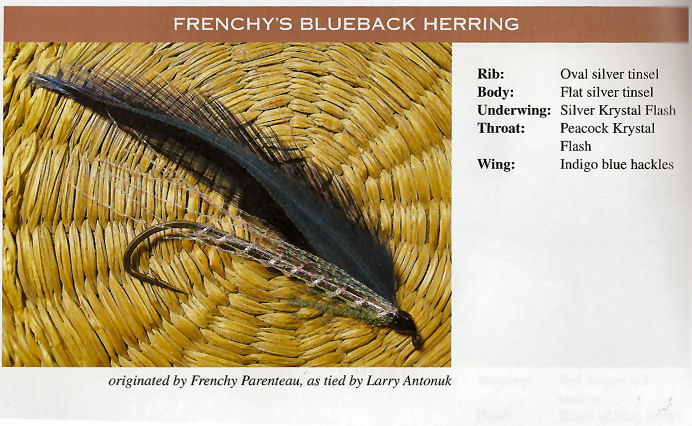 In January, I was lucky enough to be able to publish four flies in Sharon E. Wright's new book,
Tying Heritage Featherwing Streamers.
These came from my collection
of local Monadnock streamer patterns.


Welcome to Classic Atlantic Salmon Flies. This is a site that displays my recent work with salmon flies that were originally tied in the 1800's in various spots in the U.K. I needed a place to point people when they were curious about my fly tying obsession. (That image of a Green Highlander on my cellphone just wasn't cutting it anymore, so I decided to put together a web site.)
The site is more or less a photo gallery, where you can see images of my framed flies, as well as some shots of the flies I've mounted in glass domes. I've also included a short history of my fly tying career, as well as some of my favorite fly tying web sites.

What's Going On??!?
I don't always just sit at home and tie flies. Sometimes, I go out and tie flies. Here's a list of some upcoming events. Stop by and say hello!!
| | | | | |
| --- | --- | --- | --- | --- |
| | January, 2014 | Sharon E. Wright was kind enough to include 4 of my historical Monadnock streamer patterns in her new book, Tying Heritage Featherwing Streamers . | | Not only that, but one of my turned maple bodkins made several appearances throughout the book. |
| Marlborough Fly Fishing Show | | I will be around at the Marlborough Fly Tying show. Not tying, but I will be staying over Friday night and meeting up with people then and most of Saturday. | | |
| Do your Flies Measure Up? | Spring 2013 Edition | My latest article in Fly Tyer discusses methods to bring consistency to your fly tying. | | Who says I can't write exciting stuff??!? |
| | | I have moved all the references to my recent magazine articles to their own page. Check it out at Shameless Self Promotion. | | I'm looking forward to another article in the Spring 2015 issue of Fly Tyer. This will demonstrate a few New Brunswick Mirimachi patterns. |
As part of my work with the Fly Tying classes, check out my Recommended Books page!
If you click through to Amazon through the link above, or any of the links on my Recommended Books page, I get a small bit of the profits to help support my web hosting. Thanks!